Vinyl Alphanumerics
Full adhesive backing
Suitable for fiberglass and metal surfaces
Gloss vinyl gives the appearance of being painted on
Indoor/outdoor use; Bernard vinyl alphanumerics typically last 5-7 years
Economical; great for mailboxes, boats, signs, address plaques, and more
All models and sizes black or white. Other colors as shown. Custom colors available..
1″,2″,3″ Die-cut Vinyl Gothic Font Alphanumerics
5″ Die-Cut Vinyl Gothic Font Alphanumerics
3″ Peel and Stick Gothic Font with self aligning border
4″ and 7″ Die-Cut Roman Font Alphanumerics
---
Large Gothic Font Alphanumerics
These large insignia fabric characters are what you see on sailboat sails. They can be seen from quite a distance. If you need large identification  numbers or letters on trucks, barns, or other large structures, these are ideal for those purposes. Bernard large size alphanumerics have a self-adhesive back, ideal for placement before sewing onto sails. Other surfaces require additional adhesive.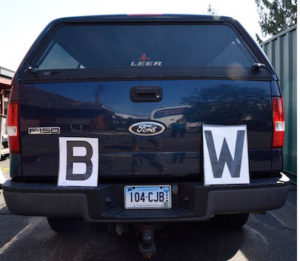 The photo gives an idea of the size. You can select 10" and 12" characters in black, but they are available for quantity purchases in other colors.
Contact us for additional details. We offer the full alphanumeric set.
10″ , 12″ Die-Cut Sail Fabric Alphanumerics
---
Rigid Plastic Alphanumerics
The Gothic style is the most widely used of the Bernard letters and numbers. 3" Gothic meets requirements for registration numbers in most states. These rigid plastic alphanumerics are available in black face/white bevel and also paintable white, to suit your color needs. Capital letters only are available. Mix sizes for the appearance of upper and lower case. Brass mounting brads are included.
3″,4″ Hard Plastic Gothic Font Alphanumerics
5″ Classic Roman letters are readable from a distance because of
their elegant letter-forms and excellent legibility. Capital letters only
are available.
5″ Hard Plastic Roman Font Alphanumerics
---