Description
Oversize Nautically Inspired Clothes Pin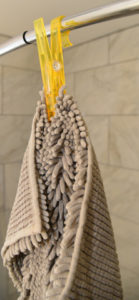 It's great to dry laundry in the fresh air, but it's a drag to find items on the ground or in the water. Even wet towels hang securely on rails or lines with Sea Snap nautically inspired clothes pins from Bernard Engraving.
The plastic pins have been completely redesigned with bigger teeth for more gripping power. A wide hook allows Sea Snap to hang from railings measuring 3/4″ to 1-1/4″, including shower rails at home. Laundry also can hang securely from lifelines and other rigging. Available in yellow, blue, red, teal and clear, The Sea Snap is also handy for clipping and organizing wires and cables. They're great for ski season's wet clothes, too.
Sea Snap clothespins make great holiday stocking stuffers or thoughtful hostess gifts.